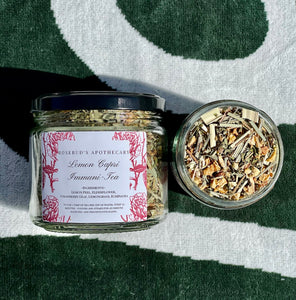 Inspired by the beautiful island of Capri. This limited time, seasonal tea blend focuses on combatting allergies and feelings of unwellness. The invigorating citrus flavors provide your body with all over protection, deriving from its high source of antioxidants and vitamin C. Whether you're feeling under the weather or just need a soothing cup of tea these powerful plants have you covered. 
Ingredients: Lemon Peel, Elderflower, Strawberry Leaf, Lemongrass, Echinacea. 
To Use: 1 tbsp of tea per cup of water. Steep 30 minutes to 6 hours and strain for allergies and feelings of unwellness.