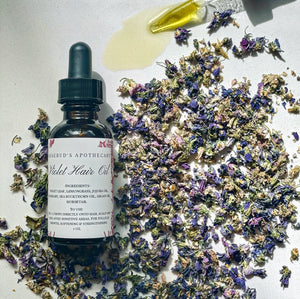 This violet leaf + lemongrass based oil is designed to promote hair growth and strengthen follicles. With the support of these nourishing and softening herbs your hair will soak it that extra moisture it needs.
Ingredients: Violet Leaf, Lemongrass, Sea Buckthorn Oil, Jojoba Oil, Almond Oil, Horsetail, Rosemary.
To Use: 2-10 drops directly onto hair, scalp and skin. Avoid sensitive areas. For all hair types to promote silky, smooth and shiny hair.